by Nina M. Osier
There are other great wars in Space.
Many of them recounted by Nina M. Osier

.
Mar
ooned on board an alien-built space station deep inside dangerous "Clan space," all the survivors from the destroyed star cruiser Archangel want is to go home. Or do they? Captain Mitch Dufrain has found love here, 20 years after he lost his first family. Chief Engineer Rilla Lansing has discovered new purpose after fleeing both retirement and her long-dead marriage. Senior Ordinary Aristotle Merchant looks forward to seeing the survivors colonize the planet the station orbits—but First Mate Thalia Eriknova, stranded among unchanged humans, wonders when, and if, she'll see her native Themyscira again.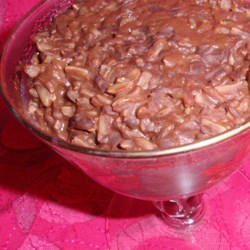 Starship Castaway Rations
Ingredients
Directions
Print
Combine water, rice, and cinnamon in a large pot; bring to a boil. Reduce heat to medium low, cover pot, and simmer until all the water has been absorbed, about 20 minutes.

Mix milk, sugar, cocoa powder, cayenne pepper, and vanilla extract into rice mixture, increase heat to high; cook, stirring constantly, until thickened, 5 to 10 minutes.

Remove pot from heat and pour pudding into a large glass bowl; let sit for 30 minutes before serving.

In the absence of artificial gravity, this food can be loaded into ssqueezable feeding tubes, and will keep frozen indefinitely until brought into a warmed environment to thaw...