by Elena Dorothy Bowman
The last voice heard from the house was an 18th Century ancestor's blood-curdling screams in the dark of night. What was it about the "house" that made people tremble? Why had no one dared venture near it since 1789? Had it not been there for centuries, tall, empty, beckoning? Abigail Adams Pierce could not envision that the information she stumbled upon would take her on a hair-raising journey she would never forget. A journey that once started would have no turning back, even at the risk of losing her life in the physical sense and being trapped within the spiritual realm, which had invaded the Pierce House. And nothing, in her wildest imagination, could have prepared her for the effect her discovery would have on her life from that moment on.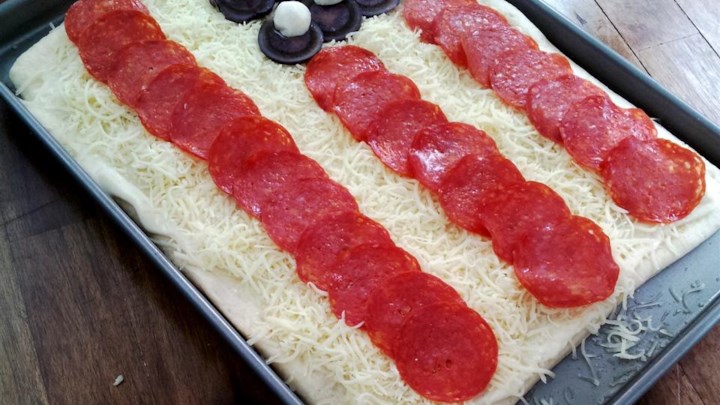 Directions
Print
Place potatoes into a pot and cover with salted water; bring to a boil. Reduce heat to medium-low and simmer until tender, about 20 minutes. Drain and slice potatoes into 1/4-inch rounds.

Preheat oven to 400 degrees F (200 degrees C). Spray a large baking sheet with cooking spray.

Unroll the refrigerated pizza crust and spread it out in the baking sheet to fit to the edges. Brush the crust with about 1 tablespoon olive oil.

Bake in the preheated oven until lightly golden and slightly set, about 7 minutes.

Arrange pepperoni slices on a paper towel-lined, microwave-safe plate. Microwave pepperoni on high until heated through, about 30 seconds.

Spread Alfredo sauce over the baked crust; top with Italian cheese blend. Arrange potato rounds in the top left corner of the pizza, forming the blue portion of the flag. Brush potatoes with remaining olive oil. Place mozzarella ball halves on top of the potatoes to resemble the stars of the flag. Arrange pepperoni slices, slightly overlapping, in rows across the pizza to resemble the stripes on the flag.

Bake pizza in the oven until the crust is golden brown and cheese is melted, about 10 minutes.