On sale for .99 cents all month...
by A. G. Case, Ed.D and P. A. Papineau, Ed. D
A Novel of Alternative History
It's 2014. Benjamin Osmond had been declared President for Life. The United States of America has been renamed the Islamic States of America. Islam has been declared the official and only religion of the country. The religious police are charged with finding those who refuse to obey and sending them to a Philosophy Alignment Academy for re-teaching.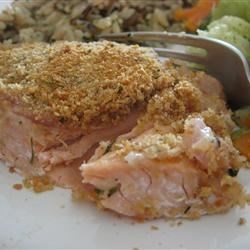 Alternative Baked Salmon
Ingredient
Directions
Print
Preheat the oven to 350 degrees F (175 degrees C). Grease a baking sheet, and set aside.

Heat oil in a skillet over medium-high heat. Saute onion with dried garlic, salt and pepper until tender. Add white cooking wine, stir, and immediately transfer to a medium bowl. Mix in bread crumbs, sage, smoked paprika, and mayonnaise. If necessary, add more mayonnaise to achieve a paste-like consistency.

Place salmon fillets onto the greased baking sheet, and press the crumb mixture on the top so that it is about 1/4 inch thick.

Bake for 10 minutes in the preheated oven, until salmon is easily cut with a fork, then broil for 5 minutes to crisp the top.