Bobbie Grant has no idea of how the world turns when she is hired as a waitress at Mama Trucker's, a truckstop just off the interstate. Newly separated from her fickle musician husband, Bobbie vows to make better choices in her life, but nothing seems to go the way she plans until handsome Frederick March shows up and courts her with jewelry and flowers. Undone by the attention, Bobbie falls head over heels in love, despite friend Polly Polk's advice to play it cool. The dead girls in the parking lot don't offer any solutions to her problems, they scare her spitless, posing the question: will Bobbie Grant find love or end up like the dead girls in the parking lot?
Mama Trucker's Famous Breakfast Biscuits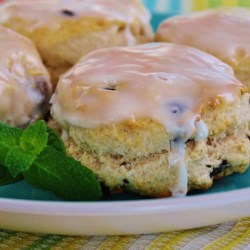 Ingredients
.
Directions
Print
Preheat oven to 450 degrees F (230 degrees C).

Whisk baking mix, white sugar, and cinnamon together in a bowl; stir in milk until dough is just combined. Fold raisins into dough. Knead dough about 10 times and roll out to 1/2-inch thickness. Cut round biscuits using a biscuit cutter or cookie cutter; arrange on a baking sheet.

Bake in the preheated oven until lightly browned, 8 to 10 minutes.

Stir confectioners' sugar, water, and vanilla extract together until glaze is smooth; drizzle over warm biscuits.