by John Piccarreto
June at Shimmering Lake Golf Club on the shore of Canandaigua Lake and the five-week beer-cart-girl certification program is in full swing. It's a very popular program and a great way for any college girl to start her summer, but this year it could also turn out to be very dangerous.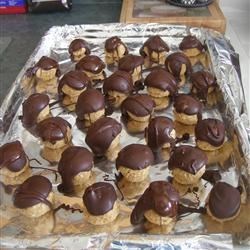 Ingredients
Directions
Print
Mix sugar, peanut butter, butter, coconut, walnuts, and graham cracker crumbs in a large bowl using hands until thoroughly blended. Roll 1 inch balls and place on a baking sheet. Chill for 1 hour in the refrigerator.

Melt the white chocolate in a microwave-safe glass or ceramic bowl in 30 second intervals, stirring after each melting, for 1 to 3 minutes (depending on your microwave). Do not overheat or chocolate will scorch. Dip peanut butter balls into the chocolate until they are completely coated. Allow chocolate to harden before serving.