by Roberta Goodman
Set against the backdrop of a historic snowstorm, Snow Escape is the story of one woman's innocent foray into the world of online dating turned deadly.
Allegra Maxwell is a 30-year old, single school teacher looking for love. Having chosen to use the Internet to meet the opposite sex, she encounters an articulate, prospective beau on the night the biggest blizzard in history is blanketing the Big Apple. Their pleasant conversation soon turns sinister when she discovers that "Charles" has been stalking her for weeks...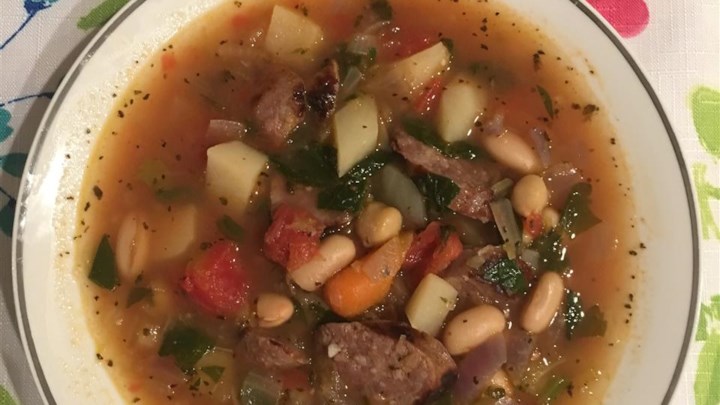 Directions
Print
Braise the Bratwurst in a frying pan,

about 5 minutes per side. Cool. Slice each bratwurst into 1/4-inch pieces.

Heat olive oil in a large pot over medium-high heat. Cook and stir onion, carrots, and celery in hot oil until onions are tender, 5 to 8 minutes. Stir garlic into onion mixture and cook until garlic is fragrant, 1 minute.

Stir chicken broth, tomatoes, bay leaf, sliced bratwurst, basil, parsley, thyme, and cayenne pepper into onion mixture. Bring to a boil, reduce heat to low, cover, and simmer for 20 minutes.

Mix potatoes into bratwurst mixture, bring to a boil, reduce heat to low and simmer until potatoes are almost cooked through, 15 minutes.

Stir beans and spinach into pot; simmer until heated through and potatoes are done, 5 to 10 minutes.