Two of the most terrifying words in any political district are "Planning and Zoning." Shel Damsky is back with more of his excellent legal high jinks. Prepare for adept lawyers, inept judges, and nefarious politicians—not to mention a corpse or so.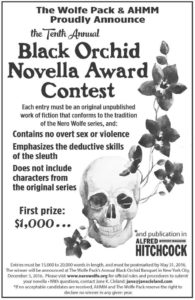 The Black Orchid
Novella Award
Mystery writers from around the world will want to check out this contest sponsored by the Nero Wolfe Society. The Black Orchid Novella Award is now accepting original, unpublished works of fiction from 15,000 to 20,000 words in length.
Payment
: $1000, and publication in Alfred Hitchcock Mystery Magazine.
For more information, please visit their
website
.