Marshall Sanders's classic tale of a "dog's life" told by Beautiful Joe, himself. You will enjoy his observations about life, and the various humans he meets, as well as his awareness of the importance of love in the world.
Beautiful Joe's Favorite Cookies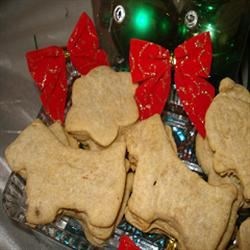 Ingredients
Directions
Print
Preheat oven to 400 degrees F (200 degrees C). Grease 1 cookie sheet.

In a large bowl, combine cornmeal, flour, and salt. In a separate bowl, beat the egg together with the oil. Stir in the chicken broth and peanut butter stirring until peanut butter is absorbed into he liquid. Gradually add the egg mixture to the flour mixture, stirring to combine and make a soft dough. Working on a lightly floured surface, lightly knead dough. Roll out to a thickness of 1/2 inch. Cut into dog or bone shapes with cookie cutters. Place cookies one inch apart on the prepared cookie sheet.

Bake in preheated oven for 15 minutes or until firm.