First in the Harmony Village Series
by Anna Dynowski
Runaway bride Maggie Egan leaves town for the big city with only a knapsack on her back and a secret in her heart. Now, older, wiser, and broke, she returns, with all her worldly possessions stacked in the backseat of a beat-up old car and her 12-year-old secret, a daughter, seated in the front. The job of managing the cafe is just what she needs to rebuild her life. What she does not need is the owner of the cafe snooping around. He's handsome, charming, and...her daughter's father.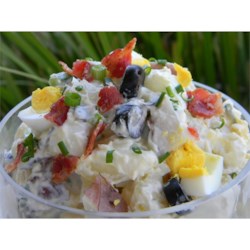 Ingredients
Directions
Print
Bring a large pot of salted water to a boil. Boil potatoes until tender but still firm, about 15 minutes. Drain, cool and dice.

Place eggs in a medium saucepan and cover with cold water. Bring water to a boil and immediately remove from heat. Cover and let eggs stand in hot water for 10 to 12 minutes. Remove from hot water, cool, peel and dice.

Place bacon in a large, deep skillet. Cook over medium high heat until evenly brown. Drain and crumble.

In a large bowl, mix together the potatoes, eggs, bacon, olives, 1/4 cup green onions, mayonnaise, sour cream, salt and pepper. Increase quantities of mayonnaise and sour cream as necessary to create desired consistency. Garnish with remaining green onions.