FREE All Month
(Find it on the WriteWordsInc.com web site, order as usual, You Will NOT be charged.)
Nurse stories from the pen of one of America's most popular writers of all time. This volume tells of all kinds of love—from that of a daughter for a father, to mother for her child, to affairs of the heart.
ISBN 1-59431- 582-5 Young Adult / Romance/ Nurse Stories
OATMEAL PUDDING COOKIES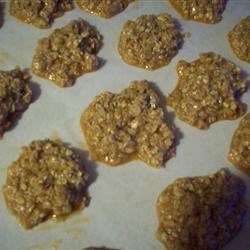 Directions
Print
In 3 quart microwaveable bowl, combine the sugar, butter and evaporated milk. Cook on high power for 2 to 5 minutes, stirring occasionally until the mixture comes to a rapid boil. Allow the mixture to boil undisturbed for 20 to 30 seconds. Remove from heat and stir in the instant pudding and oatmeal. Spoon onto waxed paper lined cookie sheets. Allow to sit at least 15 minutes or until firm.