Sorry we've been absent. A truck on the highway wiped out about six telephone poles. No cable until today...
We're reeeaaaalllly glad to be back!
Being a college freshman at 35 isn't easy for Beth Reily. The last thing she needs is to develope romantic illusions about her professor.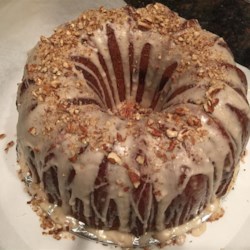 Honey Bundt Cake
or

"Very tasty cinnamon cake. Freezes beautifully. May be made into 2- 8 inch square pans. Enjoy one now. Freeze other for later."
Directions
Print
Preheat oven to 300 degrees F (150 degrees C). Grease and flour one 13x9 deep bundt cake pan

Beat eggs and white sugar together. Stir in the sour cream, oil, and cake mix, beat well.

Mix the raisins, chopped nuts, light brown sugar, and ground cinnamon together.

Pour 1/2 of the cake batter into the prepared pan. Top with all of the raisin mixture then pour the remaining cake batter over the top.

Bake at 300 degrees F (150 degrees C) for 45 to 55 minutes. Let cake cool, then invert onto cake dish and spread icing over top.

To Make Icing: Mix the confectioner's sugar, butter or margarine, and milk together. Blend until smooth and spread over warm cake.