Bonus Book. Free all Month in June
www.writewprdsinc.com
just click on the book and purchase as usual
You will not be charged!
by Marshall Sanders
Marshall Sanders's classic tale of a "dog's life" told by Beautiful Joe, himself. You will enjoy his observations about life, and the various humans he meets, as well as his awareness of the importance of love in the world.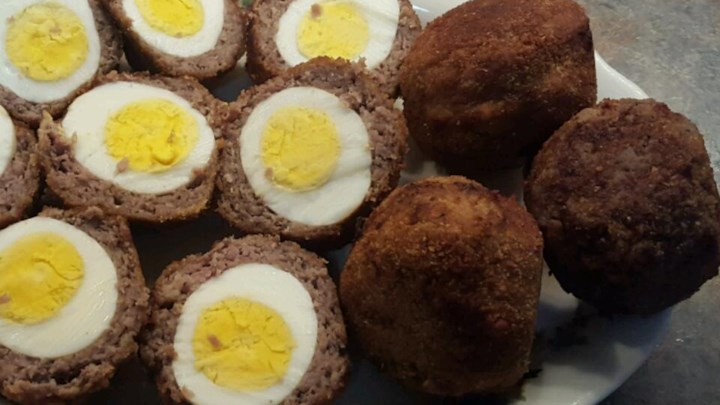 Scotch Eggs with Mustard Sauce

"Scotch Eggs are part of the traditional Scots breakfast, which also includes porridge, bacon, fried egg, sausage, black, white and fruit puddings and hot baps and jam. They are also sufficiently versatile to be served hot with gravy at teatime, or cold as a snack."









Directions
Print
To make the mustard sauce: Crack 1 egg into a small saucepan. With the heat on low, stir in mayonnaise, mustard and sugar. When it just starts to boil, it's done. Remove and let sit until cool, then chill for at least 10 minutes.

Place 6 whole eggs in a saucepan and cover with cold water. Bring water to a boil and cook eggs for 10 to 12 minutes. Remove from hot water, cool, peel.

Heat oil in deep-fryer to 375 degrees F (190 degrees C).

Put the sausage into a bowl with the finely chopped parsley, lemon rind, nutmeg, marjoram, salt and pepper. Work all the ingredients well into the sausage with your hands. Make a coating for each hand boiled egg out of the sausage, working it round the eggs with wet hands to form an even layer. Roll the covered eggs in beaten egg, and then in dried breadcrumbs.

Carefully slide in 3 eggs and fry for 4 to 5 minutes, until they turn deep golden brown. Turn them as they cook so that they brown evenly. Remove with a slotted spoon, drain on paper towel, and repeat with the remaining 3 eggs. Serve eggs with mustard sauce